For other uses, see Steam.
Steam is a digital distribution, digital rights management, multiplayer, and communications platform developed by Valve Corporation. It is used to distribute games and related media online, from small independent developers to larger software houses. However, in October 2012, Valve expanded the service to include non-gaming software. Steam provides the user with installation and automatic management of software across multiple computers, as well as community features such as friends lists and groups, cloud saving, and in-game voice and chat functionality. The software provides a freely available API, Steamworks, that developers can take advantage of to integrate many of Steam's functions within their software products, including copy protection, networking and matchmaking, in-game achievements and micro-transactions, and support for user-created content through Steam Workshop.
Though initially developed for use on Microsoft Windows, the client has expanded to include OS X and Linux versions, and clients with limited functionality on the PlayStation 3 console and for both iOS and Android mobile devices. In addition to being a central hub for gaming software, Valve has created a version of Steam with altered functionality to be used in schools for educational software, including a modified version of Portal 2 for teaching science and critical thinking lessons.
As of 2013[5] and over 65 million Steam accounts.[6] In January 2013, Steam surpassed over 6.6 million concurrent players.[7] In October 2013, it was estimated that 75% of all digital games purchased for the PC are through Steam.[8][9]
, there are over 3000 games available through Steam,
Initial release
Edit

Prior to Steam, Valve had problems releasing updates for their online games, such as Counter-Strike, wherein a patch would result in the disconnection of the larger part of the online user base for several days. They decided to make a platform which would update games automatically, and implement better anti-piracy and anti-cheat measures. Valve originally approached several companies – including Microsoft, Yahoo!, and RealNetworks – to build a client with these features, but they all turned them down.[10]
Steam's development began at an uncertain date prior to 2002. Working titles included "Grid" and "Gazelle".[11] It was revealed to the public on March 22, 2002 at the Game Developers Conference, and was presented purely as a distribution network.[12] To demonstrate the ease of integrating Steam to a game, Relic Entertainment created a special version of Impossible Creatures.[13] However, the game was ultimately not released on Steam.
Valve partnered with a number of companies including [[AT&T Corporation|AT&T, Acer and GameSpy Industries. The first mod on the system was Day of Defeat.[14]
The Steam client was first made available for download in 2002 during the beta period for Counter-Strike 1.6. At that time, its primary function was streamlining the patch process common in online computer games. Installation and use of Steam was mandatory for Counter-Strike 1.6 beta testers, but Steam remained an optional component. 80,000–300,000 gamers tested the system when it was in its beta period.[14][15] The system and web site choked under the strain of thousands of users simultaneously attempting to play the latest version of Counter-Strike.[16] In 2004, the World Opponent Network was shut down and replaced by Steam. The online features of games which required World Opponent Network ceased to work unless they were converted to Steam.
Around this time, Valve began negotiating contracts with several publishers and independent developers to release their products on Steam. Rag Doll Kung Fu and Darwinia are two examples, and Canadian publisher Strategy First announced in December 2005 that it would be partnering with Valve for digital distribution of current and future titles.[17] In 2002, Gabe Newell, the head of Valve, said he was offering mod teams a game engine license and distribution over Steam for $995.[14]
Valve's Half-Life 2 was the first game to require installation of the Steam client to play, including for retail copies. This decision was met with initial concerns both on the requirements of the software and software ownership, and issues with overloaded servers previously demonstrated through Counter-Strike.[5]
Profitability
Edit
In 2005, the first third-party games began to appear on Steam. Valve also announced that Steam was starting to be profitable, if only due to some highly successful Valve games. Although digital distribution was still no match to retail in terms of sales volume, profit margins for Valve and developers were far bigger on Steam than at retail.[18]
In 2007, big developer-publishers such as id Software, Eidos Interactive and Capcom started to distribute their games on Steam. In May 2007, 13 million accounts had been created on Steam, and 150 games were for sale on the platform.[19] In October 2007, the release of The Orange Box, and the distribution of high-profile games such as BioShock, Call of Duty 4: Modern Warfare, and S.T.A.L.K.E.R.: Shadow of Chernobyl, helped increase Steam's popularity.[citation needed]
Client functionality
Edit
Software delivery and maintenance
Edit
Steam's primary service is to allow its users to download games and other software that they have in their virtual software library to their local computers as game cache files.[20] Steam provides digital rights management (DRM) for software titles, by providing "custom executable generation" for executable files that are unique for each user, but allow that user to install the software on multiple computing devices via Steam or through software backups without limitations.[21] As such, the user is required to have started Steam while connected to the Internet for authentication prior to playing a game or have previously set up Steam in an "offline" mode while connected online, storing their credentials locally to play without an Internet connection.[22] Steam's DRM is available through Steamworks to software developers, but the service allows developers and publishers to include other forms of DRM and other authentication services on top of Steam; for example, some games on Steam require the use of Games for Windows – Live, and various titles from publisher Ubisoft require the use of their UPlay gaming service.
In September 2008, Valve added support for Steam Cloud, a service that can automatically store game saves and related custom files on Valve's servers; users can then access this data from any other machine running the Steam client.[23] Games must use the appropriate features of Steamworks for this feature to work. Users are able to disable this feature as well on a per-game and per-account basis.[24] In May 2012, the service added the ability to manage their game libraries from remote clients, including other computers and mobile devices; users are able to instruct Steam to download and install games they own through this service if their Steam client is currently active and running.[25] Certain games sold through retail channels can be redeemed as titles for user's library within Steam by entering a product code within the software.[26] For games that incorporate Steamworks, users can purchase redemption codes from other vendors, and redeem these in the Steam client to add the title to their library. Steam offers a framework for selling and distributing downloadable content (DLC) for games.[27]
To protect against the hijacking of accounts, Valve added Steam Guard functionality to the Steam client in March 2011. Steam Guard was advertised to take advantage of the identity protection provided with Intel's second generation Core processors and compatible motherboard hardware to allow the user to lock their account to a specific computer. Once locked, activity by that account on other computers must first be approved of by the user on the locked computer. Support APIs for Steam Guard are available to third-party developers through Steamworks.[28] An alternative option available to users interested in using Steam Guard is two-factor, risk-based authentication, through the use of a one-time verification code sent to a verified email address associated with the Steam account. If Steam Guard is enabled on an account, the verification code is sent each time the account is used from a new machine.[29] It is necessary to authenticate every Steamworks game online, whether purchased via Steam itself or installed via a retail disc, the first time it is played.[30] After the initial authentication, an offline mode allows games to be run without being connected to the internet.
During mid-2011, Valve began to offer free-to-play games, such as Global Agenda, Spiral Knights and Champions Online; this was tied in with their move to make Team Fortress 2 a free-to-play title.[31] Valve included support via Steamworks for microtransactions through Steam's purchasing channels for in-game items in these titles, in a similar manner to the existing in-game store for Team Fortress 2. A subsequent addition later that year added the ability to trade both in-game items and "unopened" game gifts between users.[32] Introduced in December 2011, Steam Coupons provides single-use coupons that can be used to discount the cost of an item; Steam Coupons can be provided by developers and publishers to users, and users can trade these Coupons between friends in a similar fashion with gifts and in-game items.[33] Further extending this is Steam Market, a feature introduced in beta in December 2012, that would allow users to sell virtual items to others via Steam Wallet funds. Valve has set a 15% transaction fee on such sales, and game publishers who employ the Market can add an additional transaction fee; for example, the first game supported at the beta phase, Team Fortress 2 by Valve, included both fees. Full support for other games is expected to be available in early 2013.[34] Valve subsequently added subscription-based game support to Steam in April 2013 premiering with Darkfall Unholy Wars.[35]
Announced in beta in September 2013, Steam introduced the ability to share most games with family and close friends by authorizing machines to access one's library. Authorized players can install the game locally, and play separately from the owning account (including saved games and achievements) as long as the main owner is not playing. When the main player initiates a game while a shared account is using it, the shared account user is given a few minutes to either save their process and quit the game, or purchase the game for their own account.[36]
User interface
Edit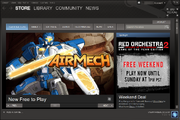 Steam includes a digital storefront called the Steam Store, through which users can purchase computer games digitally. Once purchased, a software license is permanently attached to the user's Steam account, allowing them to download the software on any compatible device. Gifting of some game licenses to other accounts is possible under set conditions. Content is delivered using a proprietary file transfer protocol from an international network of servers.[37] Steam sells its products in US dollars, euros, pounds sterling, Brazilian reais, and rubles based on the user's location.[38] From December 2010, the client also supports the Webmoney payment system, popular in many European, Middle Eastern, and Asian countries.[39] The Steam storefront validates a user's region, and certain titles may be restricted to specific regions due to release dates, game classification, or publisher agreements. In addition, the Steam Translation Server is offered, which offers Steam users assistance with the translation of Steam and a selected library of Steam games in twenty-five languages.[40]
Players can add non-Steam games to their library, allowing the game to be easily accessed from the Steam client, and provides support, where possible, for the Steam Overlay features. The Steam interface allows for user-defined shortcuts to be added. In this way, third-party mods, and games not purchased through the Steam Store can use Steam features. Valve sponsors and distributes some mods for free,[41] and mods that use Steamworks can also use VAC, Friends, the server browser, and any Steam features supported by their parent game. For most games launched from Steam, Steam provides an overlay atop the game that can be accessed by a specific keypress. From the Overlay, the user can access their Steam Community lists and participate in chats, manage selected Steam settings, and access a built-in web browser without having to exit the game.[42] The Overlay also allows for players to take screenshots of the games in process, automatically storing these and allowing the player to review, delete, or share them during their play session or after completion.
Steam's "Big Picture" mode was announced in 2011, with public betas starting in September 2012 and integrated into the software in December 2012.[43] Big Picture mode is a 10-foot user interface, optimizing the display of Steam to work on high-definition televisions, allowing the user to control Steam via a gamepad or through keyboard and mouse. Newell has stated that Big Picture mode is a step towards a dedicated Steam entertainment hardware unit.[44]
In October 2012, Steam introduced non-gaming applications that will be sold over the service.[45] Such creativity and productivity applications can be able to access the core functions of the Steamworks API, allowing them to use Steam's simplified installation and updating process, and incorporate features like cloud saving and Steam Workshop. Developers of non-gaming software will be able to submit their applications to the Steam Greenlight service to judge interest for later inclusion onto the Steam storefront.[46]
Valve has a no refunds policy, but in some circumstances has offered refunds if third-party content fails to work or improperly reports on certain features. For example, the Steam version of From Dust was originally stated to have a single online DRM check with Ubisoft, its publisher, after installation, but on release, the game required a DRM check each time with Ubisoft's servers. At the urging of Ubisoft, Valve offered refunds to those that had purchased, if they opted for it, while Ubisoft worked on releasing a patch that would remove the DRM check altogether.[47] On The War Z's release, players found that the game was still in an alpha-build state, failing to have many of the features advertised on its Steam store page. Though the developers Hammerpoint Interactive altered the description after launch to reflect the current state of the game software, Valve opted to pull the title from sale and offer refunds to those who had purchased it.[48] Valve will also remove games if they no longer meet Valve's business terms for developers. Grand Theft Auto: Vice City was pulled from Steam due to a claim from the Recording Industry Association of America over an expired license of one of the songs on the soundtrack.[49] Near the launch of Electronic Arts' (EA) own digital storefront, Origin, Valve removed Crysis 2 and Dragon Age 2 from Steam due to the terms of service which prevented games from having their own in-game storefront for downloadable content.[50] In the case of Crysis 2, a "Maximum Edition" was later readded to Steam, which contained all the available downloadable content for the game and removed the in-game storefront.[51] Games that are pulled can still be downloaded and played by those that have already purchased these titles prior to their removal.[49]
The Steam client, as part of a social network service, allows users to identify friends and join groups through the Steam Community feature.[52] Users can use both text chat and peer-to-peer VoIP with other users, identify what their friends and other group members are playing, and, for Steamworks-based games that support it, join and invite friends in multiplayer games. Users can also participate in forums hosted by Valve regarding Steam games. In January 2010, Valve reported that 10 million of the 25 million active Steam accounts had signed up to Steam Community.[53] Each user has a unique page that shows what groups and friends they have, their game library including achievements earned, game wishlists, and other social features; users have the option to keep this information private if desired.[54] In conjunction with the 2012 Steam Summer Sale, user profiles were updated with Badges reflecting the user's participating in the Steam community and past events.[55] Steam Trading Cards were introduced in beta in May 2013 and subsequently in full support by June 2013, where by playing specific games, players would earn virtual trading cards they could trade with friends and use towards gaining rewards on the service such as game discounts, downloadable content, or in-game items, and customizing their user profile page.[56][57] The Steam client has been made into an OpenID provider, allowing third-party websites to utilize a Steam user's identity without requiring the user to expose their Steam credentials.[58][59]
Steam, through Steamworks, provides a means of server browsing for multiplayer games that utilizes the Steam Community features, allowing users to create lobbies with friends or members of common groups. Steamworks also provides Valve Anti-Cheat (VAC), Valve's proprietary anti-cheat system, for game servers to automatically detect and report users who are using cheats in online multiplayer games.[60] In August 2012, Valve added new features into the Community area, such as dedicated hub pages for games that highlight the best user-created content, screenshots, top forum posts, and other details.[61] One such feature added in December 2012 was Game Guides, where users can upload text and images detailing a game and strategies for playing it, in the same manner as GameFAQs.[62]
Other functions
Edit
Steamworks is a freely available application programming interface (API) that provides development and publishing tools to game developers, allowing them to take advantage of the Steam client's features.[63] Specifically, Steamworks provides the means for games to integrate with the Steam client, including networking and player authentication tools for both server and peer-to-peer multiplayer games, matchmaking services, support for Steam community friends and groups, Steam statistics and achievements, integrated voice communications, and Steam Cloud support; the API also provides for anti-cheating devices and digital copy management.[64]
The Steam Workshop provides a way for players of Valve and Steamworks-enabled games to find and obtain user-created content. Users can use in-game or separate tools to construct new levels, game modifications, or other content for games that support the Workshop and then publish them. End users can then subscribe to such content through the Steam client or web site and automatically download it to the user's computer and integrate with the game. The Workshop was originally used for distribution of new items for Team Fortress 2,[65] the Workshop was revamped in early 2012 to extend support for any game, including mods for The Elder Scrolls V: Skyrim.[66] A May 2012 patch for Portal 2 introduced the ability to share user-created levels enabled by a new map-making tool through the Steam Workshop.[67] Indie games, such as Dungeons of Dredmor, are also able to provide Steam Workshop support for user-generated content.[68] Dota 2 became Valve's third published title available for the Steam Workshop in June 2012, with features including customizable accessories, skins and voice packs.[69]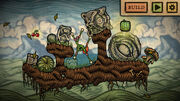 Announced in July 2012 and released the following month,[70] Steam Greenlight is a way for Steam users to help promote which games should be added to the service. Developers are able to submit information about their games, as well as early builds or beta versions, for consideration by users. Users can pledge support for these games, and Valve will help to make top-pledged games available on the Steam service.[71] In response to initial complaints during its first week that finding games to support was made difficult due to a flood of inappropriate or false submissions,[72] Valve added the requirement that developers put up a $100 fee to list a game on the service to cut down on non-legitimate submissions. The fee will then be given to the Child's Play charity.[73] A later modification allowed developers to put conceptual ideas on the Greenlight service without fee, as to garner interest in potential projects; votes from such projects are only visible to the developer.[74] Further, Valve allowed non-gaming software to be voted onto the service through Greenlight.[75] The first game to be released via Steam Greenlight was McPixel.[76]
Steam's Early Access program was launched in March 2013. The service allows developers to release functional but yet-incomplete products to the service, such as beta versions, to allow users to buy the title and help provide testing and feedback towards the final production. This also helps to provide funding to the developers to help complete their titles. Initial titles included Prison Architect, Kerbal Space Program and ARMA 3.[77]
Steam for Schools is a limited-functionality version of the Steam software that is available for free for educational institutions and use within classrooms. It is part of an initiative by Valve to support educational uses of games for classroom instruction; its release was alongside free versions of Portal 2 and a standalone Puzzle Maker application to allow educators and students to create and manipulate levels. It features additional authentication security that allows educators to share and distribute content via a similar Steam Workshop-type interface, but blocks such access from students.[78][79]
Supported platforms
Edit
Personal computers
Edit
Steam was originally released only for the Microsoft Windows operating system in 2003, but has since expanded to other platforms. On March 8, 2010, Valve announced that Steam was in development for OS X.[80] The announcement was preceded by a change in the Steam beta client to support the cross-platform WebKit web browser rendering engine instead of the Trident engine from Internet Explorer.[81][82][83] Prior to this announcement, it teased the release through several images emailed to Mac community and gaming web sites featuring Valve game characters with Apple logos or featured in parodies of old Macintosh advertisements.[84][85] In one case, Valve developed a full video homage to the 1984 Apple Macintosh commercial to announce the availability of Half-Life 2 and its episodes to the service, with some concept images for the video previously used to tease the Mac Steam client.[86]

Originally planned for release in April 2010, Steam for OS X was launched worldwide on May 12, 2010, following a successful beta period.[87] In addition to the Steam client, several features were made available to developers to take advantage of a cross-platform Source engine and platform and network capabilities using Steamworks.[88] Through SteamPlay, the OS X client allows players who have already purchased compatible products in the Windows version to re-download the Mac versions at no cost, allowing them to continue to play the game on the other platform; however some third party titles may require the user to purchase again to gain the cross-platform functionality.[89] The Steam Cloud is cross-platform compatible. Multiplayer games can also be cross-compatible, allowing Windows and Mac players to play with each other.[80]
Valve announced in July 2012 that they were developing a Steam client for Linux and modifying the Source engine to work natively on Linux, based on the Ubuntu distribution.[90] This had followed months of speculation, primarily from the website Phoronix that had discovered evidence of Linux developing in recent builds of Steam and other Valve software.[91] Newell has stated that getting Steam and games to work on Linux is a key strategy for Valve; in considering Microsoft Windows 8, Newell has called it "a catastrophe for everyone in the PC space" in the closed nature of the OS, while Linux would maintain "the openness of the platform".[92] Valve is extending support to any developer that wants to bring their games to Linux, by "making it as easy as possible for anybody who's engaged with us – putting their games on Steam and getting those running on Linux" according to Newell.[92]
The team developing the Linux client had been working for a year prior to the announcement to validate that such a port would be possible.[93] As of the official announcement, a near-feature complete Steam client for Linux had been developed and successfully run on Ubuntu.[93] Initial internal beta testing of the Linux client started in October 2012, with an external beta testing occurring in early November.[94][95] Open beta clients for Linux were available in late December 2012,[96] and the client was officially released to all in mid-February 2013.[97] Not only will Valve's Linux group focus on improving the Steam client but will assure that their selected first Source game, Left 4 Dead 2, will run at acceptable framerates and connectivity with the Windows and OS X versions. From there, they will then work on porting other games and expanding to other Linux distributions.[90][98] Valve claimed they had successfully completed the Left 4 Dead 2 port as of early August 2012.[99] Following Valve's announcement, Devolver Digital announced that it will port Serious Sam 3: BFE with Steamworks support to the Ubuntu Linux distribution.[100] Linux games will be eligible for SteamPlay availability as well, with The Cave announced as one of the first titles to take advantage of this.[101] Steam versions working under Fedora and Red Hat Enterprise Linux were released by October 2013.[102]
At E3 2010, Newell announced that Steamworks would arrive on the PlayStation 3 with Portal 2. It will provide automatic updates, community support, downloadable content and other unannounced features.[103] Portal 2's PlayStation 3 release saw Steamworks make its debut on consoles. Several features were offered including cross-platform play and instant messaging, Steam Cloud for saved games, and the ability for PS3 owners to download Portal 2 from Steam (Windows and Mac) at no extra cost.[4] Valve's Counter-Strike: Global Offensive will also support Steamworks and cross-platform features on the PlayStation 3, including using keyboard and mouse controls as an alternative to the gamepad.[104] Valve said they "hope to expand upon this foundation with more Steam features and functionality in DLC and future content releases".[7]
The Xbox 360 does not have support for Steamworks. Newell had indicated that they would have liked to bring the service to the console through the game Counter-Strike: Global Offensive, which would have allowed them to provide the same feature set that they did for the PlayStation 3,[105] but later affirmed that cross-platform play would not be present in the final version of the game.[106] Valve attributes the inability to use Steamworks on the Xbox 360 to limitations in the Xbox Live regulations on the ability to deliver patches and new contents; Valve's Erik Johnson stated that Microsoft requires that such new content must be certified and validated before distribution, which would limit the usefulness of Steamworks' own delivery approach.[107]
Mobile platforms
Edit
Valve released an official Steam client for iOS and Android devices in late January 2012, following a short beta period.[108] The application allows players to log into their accounts to browse the storefront, manage their games, and communicate with friends on the Steam community. Newell stated that the application was a strong request from Steam users, and sees it as a means "to make [Steam] richer and more accessible for everyone".[109]
Steam Machine
Edit
Main article: Steam Machine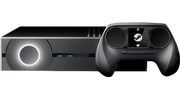 In 2012, rumors were perpetuated that asserted that Valve was developing its own video game console concept, with a particular emphasis upon emulating the functionality of the Linux operating system.[110] Preemptively dubbed the "Steam Box" by the gaming community, the technology was expected to be a dedicated machine focused upon Steam functionality, while also maintaining the core functionality of a traditional video game console.[111] During the work week beginning on September 23, 2013, Valve unveiled a console operating system called SteamOS, a console input device called the Steam Controller and the final concept of the Steam Machine hardware, tentatively scheduled to be released in 2014.[112] Unlike other consoles, the Steam Machine has no set hardware, as its technology is implemented at the discretion of the manufacturer and is fully customizable in the same lieu as a personal computer.[113]

Valve does not release any sales figures on its Steam service, instead it only provides the data to companies with games on Steam,[115][116] which they cannot release without permission due to signing a non-disclosure agreement with Valve.[117][118] However, Stardock, the previous owner of competing platform Impulse, estimated that, as of 2009, Steam had a 70% share of the digital distribution market for video games.[9] In early 2011, Forbes reported that Steam sales constituted 50–70% of the $4 billion market for downloaded PC games and that Steam offered game producers gross margins of 70% of purchase price, compared with 30% at retail.[119]
In November 2011, it was revealed by the developer of The Witcher 2: Assassins of Kings that Steam was responsible for 200,000 of the 250,000 (80%) total online sales of the game.[120] Waves, an independently developed game, sold 15,238 copies in just under 6 months.[121] Terraria, another independently developed game, sold over one million copies in less than 1 year.[122]
On February 20, 2013, Defender's Quest developer Lars Doucet revealed the first three months of revenue following his game's release across 6 different digital distribution platforms, including 4 major digital game distributors and 2 methods of purchasing and downloading the game directly from the developer. The results showed that Steam was responsible for 58.6% of gross revenue. Doucet noted that "Steam, unsurprisingly, is the lion's share of the market."[123]
Criticism
Edit
Like most services which stores users personal information, Steam has been put under scrutiny for its security and privacy metrics. The company ReVuln, a commercial vulnerability research firm, published a paper in October 2012 that claimed the Steam browser protocol was posing a security risk by enabling malicious exploits through a simple user click on a maliciously crafted steam:// URL in a browser.[124] The report was taken up by various online publications.[125][126][127][128] As the second serious vulnerability of gaming-related software, following a recent issue with Ubisoft's copy protection system "Uplay",[129] it led the German IT platform "Heise online" to recommend strict separation of gaming and sensitive data, e.g. by using a dedicated gaming PC or at least a second Windows installation, or minimally a dedicated gaming account with limited rights on the gamer's own PC.[128]
Steam has also been the subject to hacking attempts. One notable attempt occurred on November 6, 2011, where Steam temporarily closed the community forums, citing potential hacking threats to the service. Subsequently, on November 10, Valve reported that the hack included a compromise of one of their customer databases, potentially allowing the perpetrators to access customer information including encrypted password and credit card details. At that time, Valve was not aware if the intruders actually accessed this information or discovered the encryption method, but warned users to be alert for fraudulent activity.[130][131]
The initial process offered by Steam Greenlight was initially panned, as while developers favored the concept, the rate of games that are eventually greenlit by Valve is very small.[132] Valve has acknowledged this as a problem and believes they can improve upon it, as "we aren't where we want to be yet" according to Valve's Tom Bui.[133] In January 2013, Newell stated that they recognized that Valve's role in Greenlight has been perceived as a bottleneck, something they plan to eliminate in the future through an open marketplace infrastructure.[134][135] On the eve of Greenlight's first anniversary, Valve simultaneously approved 100 titles through the Greenlight process to demonstrate this direction.[136]
References
Edit
External links
Edit
Community content is available under
CC-BY-SA
unless otherwise noted.